Overview

In summer 2017, iRobot (makers of autonomous home cleaning robots) got its first User Experience Design intern.

Working closely with Industrial Designers and Data Scientists, I touched the experience of onboarding, scheduling an automatic cleaning, connectivity, and troubleshooting for robot and mobile platforms.

Later, I took lead on the iRobot Home App redesign exploring different Information Architectures, flows, and visual styles aligned with redefined design strategy goals.

Mini Project 1: Automatic Cleaning Scheduler

Problem/Opportunity
People can already set up one automatic cleaning per day using the iRobot Home app. When requests to support multiple automatic cleanings for the same day surfaced, we investigated and identified a significant percentage of 'neat freak' users with toddlers and young kids who wanted to clean more than once a day.
Process
I started with drawing a mind map of what I knew or had evidence of. This helped me form hypotheses around people's current scheduling behavior.
With more sketching more unanswered questions surfaced. I investigated why people desired scheduled cleaning. Another challenge was to identify people's mental model when it came to setting up schedules. Do they think of time or day first? What if they have multiple robots? Do they think of an area to clean first?
Simultaneously, data science team helped me identify common cleaning patterns and times that informed default settings.
Initial Sketches
Proposed Concept
The scheduler had to work for all robots. Since the product lineup has varied capabilities, a bigger differentiator was between robots that created cleaning area Maps and the ones that did not.
Design Decisions Summary
Since the value of feature was already established, a more pressing challenge was identify appropriate constraints that were well within scope. With every step, I sketched and shared concepts with iRobot employees (outside the product team) for testing and feedback.
Below is a decision tree that led to the final concept. Certain images have been altered or blurred due to unreleased nature of the work.
Mini Project 2: iRobot Home App Redesign: New Information Architecture

Challenge with the current IA
The experience for multiple robot ownership was not ideal. One had to switch robots using the hamburger menu and any info, cleaning reports, and notifications worked in isolation from one another. Additionally, at the center stage was the iconic giant Clean Button that did not do justice to the diverse product line.
Goals for the Redesign
Build a cohesive experience that supports multiple robot ownership.

Encourage best practices that improve home & robot health.

Decrease time spent on the app.
Approach & self-appointed Constraint
Design a dynamic Home screen using ancipatory design practices and build the architecture around it.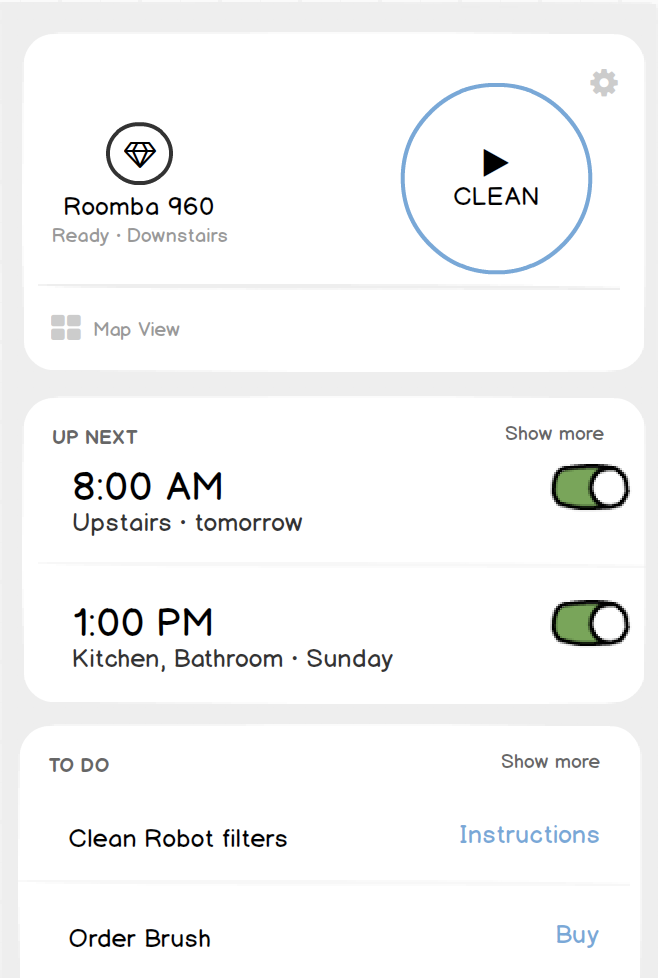 Generating and evaluating different IA directions
Process
The App's current home screen has a simple big CLEAN button. While it's wonderfully communicates how simple it is to initiate cleaning, the trade off is everything else is hidden and discourages users to explore and find useful features.
I proposed the Home screen to be adaptive i.e., should anticipate and display what users are going to use the App for. For example, after a cleaning job is finished, it's unlikely the user wants to run another cleaning job and should instead pull up the cleaning report for previous mission.
The architecture had to work equally well for single and multiple robots. Grouping things based on three high-level motivations to use the App worked better over grouping based on features or tasks.
There are multiple permutations for what the order of cards should be on the Home screen that needed further investigation beyond the scope of the project at the time. I mocked up a high-fidelity prototype using Sketch and InVision to build a proof of concept. While I solicited constant feedback from the design team throughout the process, the prototype was showcased with a wider audience on my last day.
Next Steps


I would put this in front of a mix of single and multi-robot owners to learn more about their behavior with cleaning and maintenance since every design is just an attempt to understand the problem better.

The redesign exploration is still underway. I'm very grateful to work with the incredibly talented Design team at iRobot especially Ben Schriesheim (Principle Designer, Roomba) - my mentor and manager.

Using Mockups as a Thinking Tool

Always bring something to the table

Iterating questions for Inquiry & Feedback

Design is 2/3 leg-work, 1/3 'design' work

Document why a concept doesn't work

The soft-skills I learned from my incredible Design Team:
Talking Design to non-designers

Looking at Design with a business lens

Managing time so you don't end up all day in meetings

When in doubt, just prototype and test it

Design is not what a survey result points towards but, finding those latent needs that come with a deep understanding of people

Solving for a wide range of users takes time but is possible

Probing people during usability sessions
:)