IIT Mumbai, India. June 2016
Tools
Contextual Inquiry, Affinity Diagram, Sketch, Invision.
Team
Kriti Shandilya, Ruhi Awadhut, Amit Kulkarni, Priya Aswath, Rashmi Jain, me.
My Role
Interviews, Synthesis, Ideation, Final Concept, Prototype, Testing.
Design Challenge
Bus stops are integral to the transport services of Mumbai. And yet, not much technology is used to provide information to commuters at bus stops. We are asked to design a new Information System that not only encourages people to use the bus infrastructure, but also inform a commuter about the time of the next bus. What is the best way to provide it to them?
Proposed Solution
We propose that commuters be able to look up information using shortcodes with the following 3 top-level queries:
Identify buses (bus number and general direction) that stop at a particular bus station

Identify stops on a route

Identify buses that run from Stop A to Stop B
Second, at high traffic bus stations, an LED display board that shows:
Upcoming buses




Estimated time of arrival




Major stops that lie on the route

Major stops in the city with the bus routes that go there.
Guerilla Interviewing at Bus stations
We understood that one of the reasons that Mumbai's extensive network fails to cater to its ever-growing diverse user base is underlying outdated information system. We asked ourselves how could we use technology to inform commuters? Why wasn't it already implemented? Did they even need technology?
To investigate further, we went to different bus stops across Mumbai to interview bus travelers. Guerilla interviewing was particularly helpful as we had unfiltered and unlimited access to a mix of participants. Plus, we always had the opportunity to join them in their journey.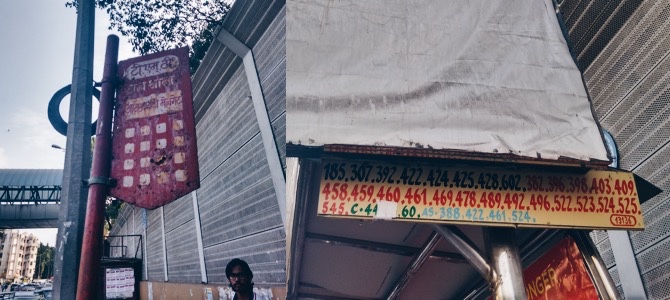 Signage at a typical bus stop in Mumbai.
After a few conversations, we managed to eliminate some red-herrings, like upper-middle-class city dwellers who grew up in upscale Mumbai, and tourists. The real majority users were:
1. Lower and middle-income working class
People who depended entirely on the bus network for their intra-city travel.
2. Students
School, tuition, or University students who would use the buses in combination with the Mumbai's suburban railway network.
We performed affinity to classify user statements, breakdowns, insights and design ideas from our interviews.
The team performing Affinity with each user statement, breakdown, insight, design idea printed using chits of paper.
Synthesizing Interviews using Affinity Diagrams
Since all interviews had happened in isolation from other team members, affinity diagrams helped us collaborate on the synthesis and find patterns among different interviewee behavior.
The major insights from the affinity diagram that dictated our next steps:
People usually only knew their last mile destinations, not necessarily the nearest bus stops.
People knew at least one of these: boarding stop, destination stop, bus route number, directions, major stops on the way.
Some people were illiterate but could identify the bus by visually recognizing the route number.
Some people developed a sense of direction by matching bus routes with the end destinations and could predict route direction by knowing the route number.
Lower/middle income working class group was the most compelling to design for because most didn't use a smartphone: No Google Maps or transit apps.
Using Persona as a Tool
To quickly assess the data from our primary research, we created a persona to inform our design. Before making a design decision, we would refer to Narayan - our persona and imagine if it worked for him.
Exploring touchpoints and converging
We wanted to identify the form for communication before diving deep since it would dictate what was accessible. We explored possible interfaces for Narayan including but not limited to paper handouts, Interactive voice response (IVR), Shortcodes (how we check minutes on our phones, for example, dialing *646#), LED Display boards and touchscreen kiosks.
We went ahead with the combination of Shortcodes and LED Display boards at major stops because:
This combination has comparatively lower tradeoffs in terms of feasibility and ease of learning.
All feature phones from the early 2000s to a smartphone from 2016 can run the shortcode.
LED Display boards at major stops offer more information to more people, at once.
Testing & Feedback
Mumbai rains
(google images here)
forced us to skip shortcode testing altogether. To test the LED board, my prototyped the interface on Adobe Flash and delployed it on an iPad.

We recruited users between the age of 30 to 40 for the test in the IIT Bombay campus at Gulmohar and Brewberry cafeteria. We asked them what could they comprehend, at what point would they need this in their journeys, and when would they ignore it. My teammate asked these questions and I took photographs and notes with another teammate.
Most of the feedback was directed towards animation speed and information hierarchy. We iterated on the hierarchy to bring bus

Animated Prototypes
Shortcode Flow to look for Stops on a Route.
Shortcode Flow to look for all Routes passing through a Bus Stop.
Shortcode Flow to look for routes between any Source & Destination.
Shortcode Flow to look for routes between any Source & Destination.
What I learned
Know the real users
This project made me understand, how important it is to know your real user. While at first, I wanted to design better signage on buses and bus stops(coming from my aesthetic inclinations), but that was the least of the worries of our primary users.
Count for buffer days
We couldn't perform usability test for Shortcodes because of heavy rains in Mumbai. It is the primary thing in my bucket list of things to do when I visit India next to validate and iterate on the design.